Digimon Mini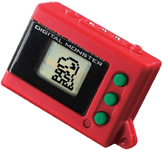 The Digimon Mini is the latest Digimon V-Pet series, and is based on the older Digimon models (the Digital Monster line and the Digimon Pendulum line) This is a Digimon 10th anniversary special.
Set-Up and Game Play
When you remove the tab from the Mini, you are greeted with the Bandai logo and are then asked to set the clock. In one minute, your Digitama will hatch, and you must feed it and train it as you do in past v-pets. Unlike past v-pets, the Mini does not use icons for its functions. Instead, the buttons select each function.
A Button:

Feed : Press the button and the icons for meat and vitamins will come up. Press A to scroll from meat to vitamin and press B to confirm.
Poop/Sickness: Press A when your Digimon poops or get sick. Pressing A for poop will instantly flush the poop, and pressing A for sickness or injury will bring up the two icons for sickness and injury. Scroll with A and select with B.
Lights (when Digimon sleeps): Press A and "On" and "Off" will appear. Scroll with A and select with B.

B Button:

Training: To train, hold the B button until "Ready" appears on the screen. Power up your Digimon by pressing B rapidly.
Battle/Record: To battle, press B and you will be given two options, Battle and Record. Battle leads you into battle, and Record shows you the number of battles won and number of total battles as well as your Win Ratio. Scroll between the two options with A and select with B.

C Button:

Clock: Hold down C until the time appears.
C also acts as cancel when you want to back out.
Sound Off: Press and A and B at the same time and select on or off.
Change Time: Hold down C to select the time and press A and B at the same time to change the clock.
(written by D-protector)
Digimon Listing
Version 1
Botamon
Koromon
Agumon
Gabumon
Betamon
Greymon
Garurumon
Seadramon
Numemon
MetalGreymon
Triceramon
WarGreymon
Omegamon
Version 2
Babumon
Motimon
Tentomon
Elecmon
Kunemon
Kabuterimon
Kentarumon
Tyranomon
Sukamon
AtlurKabuterimon
WaruMonzaemon
HeraclesKabuterimon
TyrantKabuterimon
Version 3
Poyomon
Tokomon
Patamon
PicoDevimon
Ganimon
Angemon
Devimon
Leomon
Shellmon
Coelamon
Nanimon
HolyAngemon
Vamdemon
Etemon
Holydramon
Piemon
BanchouLeomon
Lucemon Satan Mode